From archive. EKITI 2019 PROPOSED BUDGET OF RESTORATION: BEFORE IT BECOMES LAW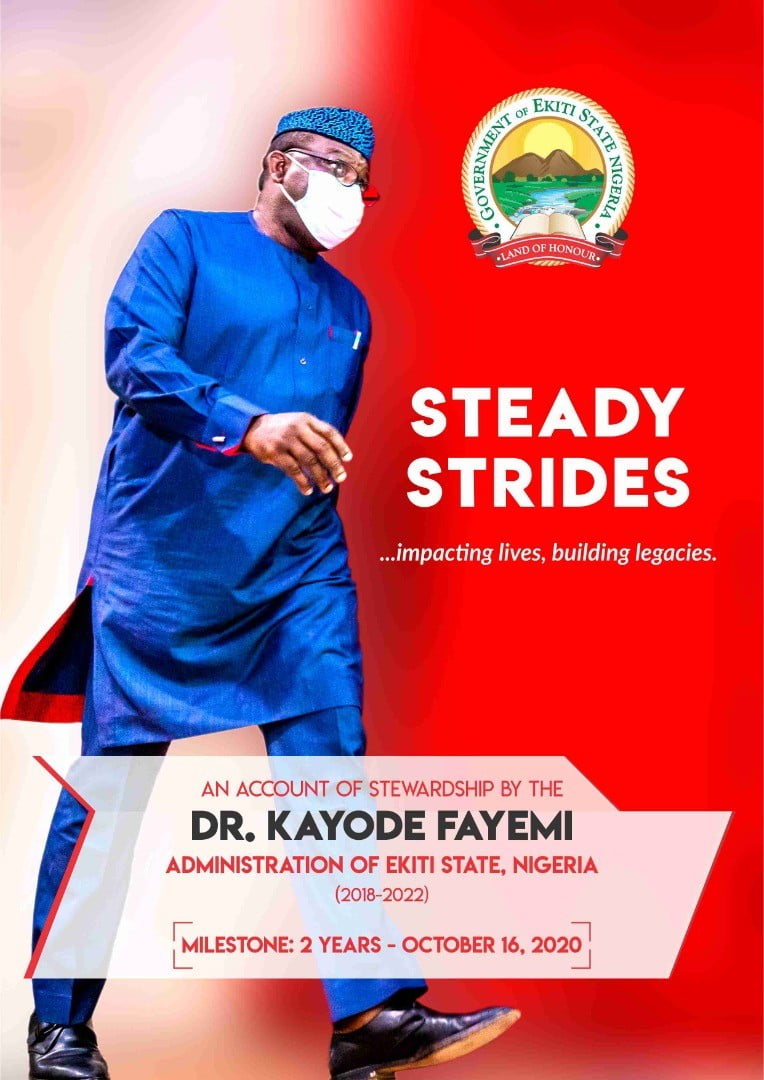 The budget presentation to the State of Assembly christened BUDGET OF RESTORATION by the Executive Governor of Ekiti, His Excellency, Dr. John Olukayode Fayemi on the 21st of December is another milestone and a testimony of the readiness of this administration to put our dear State on the path of greatness again.
In line with the policy thrust of the present administration which was earlier made public under the following:
Agricultural and rural development.
Social Development.
Infrastructural development and
Entrenching knowledge economy
The government has proposed total budget of N129.9 billion of which 56% goes to recurrent expenditure and 44% for capital expenditure.
The Budget Chat shows:
◇ Agriculture and Rural Development –
8.439b – 6%
◇ Governance 32.22b – 25%
◇ Knowledge Education 33.39b – 26%
◇ Infrastructure and Industrial.
Development 40.12b – 31%
However, as beautiful as this proposal is, it is pertinent that the attention of the present administration is urgently called not to follow the pitfall of the previous administrations especially if the budget is to meet the target set.
Ekiti of population of about 2.3m citizens and land mass of about 5435sqkm is a civil service and agrarian State. Ekiti has about 26000 civil servants out of the about 2.3m population while farmers and youths form the greater number of the rest.
Agriculture is the main occupation of the people which provides income and employment for more than 75% of the population of Ekiti State.
The main cash crops are cocoa,coffee, kolanut, cashew and oil palm. Other tree crops include citrus fruits, coconut, mango, sugar-cane,guava and pine apple.
Because of the conducive climatic condition, the state enjoys luxuriant vegetation. It also boasts of various species of timber that provide raw materials for wood based industries. Among the food crops are: yam, cocoyam, cassava, maize, plantain/banana, rice, beans, pepper, tomatoe and varieties of vegetables.
The allocation of 8.439b I.e. 6% of the total budget proposal of 129.9b to agriculture and rural development compare to 32.22b I.e. 25% proposed for governance and 33.39b I.e. 26% proposed for Knowledge Education is not only unfair, it is unjustifiable and smack of repeat of usual pitfall of neglecting the larger percentage i.e. the about 75% of our population and which must be totally avoided this time that we have listening government.
It is expected that the present administration will facilitate and key in to the Federal Government Anchor Borrower Scheme to facilitate access to working capital for our small holder farmers in boosting their agricultural output, reduce their post harvest lost etc so as to provide jobs, guarantee food security and create wealth to the larger part of the populace.
It is also expected that the current administration will begin the processes of collaboration with private investors in establishment of at least two (2) conventional rice mills and modular rice mills to be located in such areas like Igbemo, Erio etc.
Yam is a staple food to average Ekiti family, Ekiti yam is the first to mature and enter farm all over the country, every efforts ought to be made to assist the small farm holders for increase production and access to local and international market.
Access to capital is usually the limiting factor inhibiting increase production of our farmers' output, some farmers need as little as twenty thousand naira (#20000.00) to buy yam, rice etc seedlings of cassava stem to multiply his output. Providing this inform of loan through the farmers cooperative to be coordinated by the State Ministry of Agriculture in collaboration with Bank of Agriculture, Bank of Industry will go a long way to making life liveable and enable us "grow what we eat and eat what we grow".
Other areas that needs urgent government interventions are but not limited to are:
Establishment and Development of Rice Production centers in Igbemo-Ekiti, Erijiyan-Ekiti and Erio-Ekiti.
Production of Ekiti Own Cattle Ranch.
Revatilization of almost moribund Ikun Dairy Farm to profitable venture through Private Sector Participation.
Increase palm oil and Cocoa Farmers production in close partnership with Cocoa Reasearch Institute of Nigeria (CRIN) and other Federal Government agencies for introduction of new and improved seedlings.
In view of the above, the 6% allocation to Agriculture and Rural Development in the Ekiti State 2019 Budget of Restoration Proposal require holistic review because "A society that cannot help the many who are poor, cannot save the few that are rich." – JFK
Signed: Ekiti Liberation Movement (Itusile Ekiti) 30th December 2018. [email protected]
07082529222