FAYEMI APPROVES BOARD APPOINTMENTS, SAs, SSAs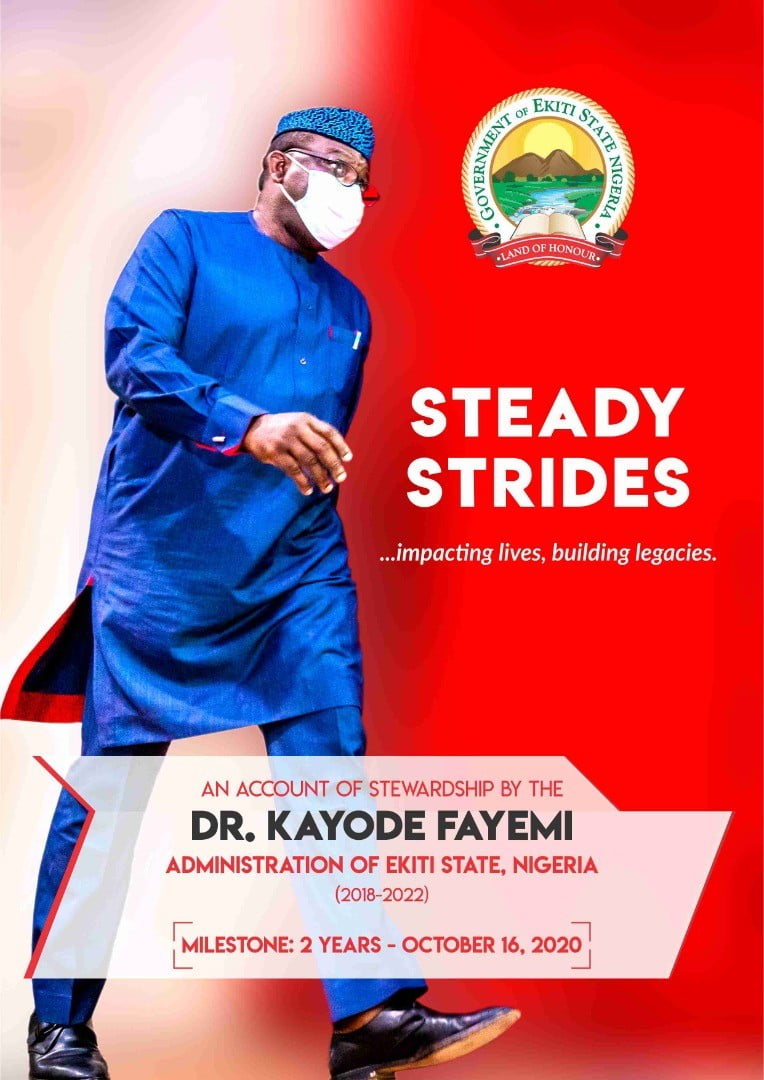 The Governor of Ekiti State, Dr Kayode Fayemi has approved appointments into the remaining boards of agencies and commissions in the state in a bid to enhance service delivery and smooth running of government business.
The Governor also approved the appointment of some Special Assistants and Senior Special Assistants to take charge of some critical responsibilities in the administration.
The new appointees are:
NAME
POST
ENVIRONMENTAL PROTECTION AGENCY
1
Hon. Anifowose Badejo
Chairman
2
Hon. Sola Adekunle
Member
3
Mr. Femi Fadahunsi
Member
4
Hon. Femi Awe
Member
5
Hon. Ajaja Niyi
Member
STATE EMERGENCY MANAGEMENT AGENCY
1
Capt. Sunday Adebomi (rtd)
Chairman
2
Mr. Akin Owolabi
Member
3
Ehinafe Odunayo
Member
EDUCATION TRUST FUND
1
Prof. Muyiwa Igbalajobi
Chairman
2
Mrs. Boluwade Yetunde
Member
3
Hon. Omowaye Ojo
Member
4
Mr. Bayo Awe
Member
BOUNDARY COMMISSION
1
Mr. Kayode Olaosebikan
Chairman
2
13 Statutory members from MDAs
Member
MUSLIMS PILGRIMS' WELFARE BOARD
1
Alhaji Onipede Babatunde
Chairman
2
Alhaji Musa Babalola
Member
3
Alhaji Shehu Mohammed
Member
MICRO-CREDIT AND ENTERPRISES DEVELOPMENT AGENCY
1
Mr. Sesan Okere
Chairman
2
Mr. Dolamu Adeniyi
Member
3
Mr. Awoniyi Laoye
Member
4
Hon. Segun Aina
Member
CHRISTIAN PILGRIMS' WELFARE BOARD
1
Elder Oladele Oladiji Ayeni
Chairman
2
Hon. Alebiosu Akinwale
Member
3
Pastor Sesan David
Member
RURAL WATER SUPPLY AND SANITATION AGENCY
1
Hon. Victor Adeniyi
Chairman
2
Mrs. Funke Owolabi
Member
3
Hon. Kayode Ogundaisi
Member
4
Mr. Bolu Alabi
Member
ELECTRICITY BOARD
1
Engr. Lanre Owoeye
Chairman
2
Engr. Adekanmimo
Member
3
Mrs. Biodun Talabi
Member
4
Mr. S.O. Ipindola
Member
SCHOLARSHIP BOARD
1
Mr. Wole Adebola
Chairman
2
Hon. Cecilia Dada
Member
3
Alhaji Salman Adedipe
Member
HOUSING CORPORATION
1
Hon. Tosin Olotu
Chairman
2
Hon. Ojo Atibioke
Member
3
Mr. Segun Olaifa
Member
4
Mr. Kayode Eegunjobi
Member
TRAFFIC MANAGEMENT AGENCY
1
Hon. Sunday Ibitoye
Chairman
2
Mrs. Anthonia Omonusi
Member
3
Mr. Kayode Aladegbami
Member
TOURISM BOARD
1
Chief (Dr.) Jide Josiah
Chairman
LIBRARY BOARD
1
Wale Akinlabi
Chairman
–
TRADITIONAL MEDICINE BOARD
1
Mr. Akin Otiko
Chairman
2
Idowu Komolafe
Member
3
Mrs. Mary Faje
Member
4
Mr. Olu Omotosho
Member
5
Mr. Ajayi Olugbenga Ezekiel
Member
6
Mr. Olufemi Adesua
Member
7
Chief Raphael Agbana
Member
BOARD OF INTERNAL REVENUE
1
Chief Adewumi Apalara
Member
2
Engr. S. Iyunade
Member
3
Ms. Lola Aluko
Member
​​
STATE AIDS CONTROL AGENCY
1
Dr. Nike Kolawole
Member
2
Alhaja Aisha Badmus
Member
3
Mr. Ayodele Akande
Member
SUSTAINABLE DEVELOPMENT GOALS NETWORK
1
Mrs. Bunmi Awosina
Member
2
Elder Eniola Olowoyo
Member
3
Mrs Bose Yakubu
Member
OTHER BOARD APPOINTMENTS
1. Hon. Gabriel Folorunso Ogundele-​Water Corporation (Member)
2. Hon. Olusegun Asubiojo​​​-Sports Council (Member)
3. Mr. Tanwa Oyebode​​​-​Sports Council (Member)
4. Hon. Kayode Oluyemo ​​-​Pension Commission (Chairman)
5. Mrs. Dupe Bakare​​​-​Judicial Service Commission (Member)
6. Mr. Timothy Foluso Oluwagbemi​-​Investment Promotion Agency (Member)
7.Hon. Akinloye Akinyemi​​-​Chairman, Signage and
​​​​​​​​Advertisement Agency
8.Pa Falayi Abiodun​​​-​Chairman, Fountain Agric
​​​​​​​Marketing Agency
SPECIAL ADVISER1. Hon Gbenga Agbeyo – Special Adviser, Human Capital Development
and Allied Matters
SENIOR SPECIAL ASSISTANTS 1. Barr. Ayo Daramola​​​-​SSA, Legal Matters2. Chief (Mrs.) Tosin Ajisafe-Aluko-​SSA, Community Engagement &
Enlightenment3. Hon. Rotimi Ajidara​​​-​SSA, Local Government Affairs4. Aduloju Yemi Sunday​​-​SSA, Protocol/Logistics5. Barr. Busuyi Ayodele​​-​SSA, Political Surveillance6. Hon. Olaiya Kupolati​​-​SSA, Electoral Matters7. Mr. Femi Ogundare​​​-​SSA, Chief of Staff's Office8. Mr. Ibukun Atansanoye​​-​SSA, Special Projects9. Mr. Mufu Apata​​​-​SSA, Community Matters10. Hon. Bolu Komolafe​​-​SSA, Governor's Office11. Idowu Akinlabi​​​-​SSA, Forestry12. Barr. Tunji Lawal​​​-​SSA, Inter-Agency Coordination13. Omolayo Olusola​​​-​SSA, Chief of Staff's Office14. Tola-Odoko Ajayi​​​-​SSA, Women Advocacy (North)15. Mr. Kole Agbaje​​​-​SSA, Strategy16. Hon. Ige Fajuyi​​​-​SSA, Special Outreach (CoS Office)17. Hon. Tope Longe​​​-​SSA, Project Monitoring (North)18. Kolade Ogunsakin​​​-​SSA, Project Monitoring (Central)19. Hon. Richard Apolola​​-​SSA, Project Monitoring (South)20. Ogunrinde Olatunde S.​​-​SSA, Disability Matters21. Chief Akinwumi Olasehinde​-​SSA, Traditional Chiefs Affairs
22. Remi Osabusua – SSA, Governor's Office
23. Adetifa Olatunde – SSA,Governor's Office
SPECIAL ASSISTANTS1. Comrade Olaiya Kolawole​-​SA, Labour Matters2. Suleiman Nasiru​​​-​SA, Ethnic Relations (Igbira)3. Nnamdi Chukwu Igwe​​-​SA, Ethnic Relations (Igbo)4. Husaini Bawa​​​​-​SA, Ethnic Relations (Hausa)5. Ogundipe Taiwo​​​-​SA, Governor's Office6. Mr. Akinwumi Ajayi​​​-​SA,Governor's Office​7. Esther Fransisca Adeoye​​-​SA, Mobilization8. Hon. Kayode Alakinyede​​-​SA, Documentation9. Chief Akinlade Ojo​​​- SA, Public Enlightenment10. Mrs. Tolani Moses​​​-​SA, Women Mobilization (North)11. Mrs. Adetoyinbo Adejoke​-​SA, Chief of Staff's Office12. Mrs. Yemi Afolabi​​​-​SA, Women Mobilization (Central)13. Mrs Biodun Ogunmodede​-​SA, UnionAffairs14. Mrs. Sherifat Ogunsakin​​-​SA, Faith-Based Organisations (I)15. Mrs. Remi Balogun​​​-​SA, Women Advocacy (Central)16. Gbenga Akinwumi​​​-​SA, Chief of Staff's Office17. Mrs. Adamolekun Omolara Deborah-​SA, Faith-based Organisations (II)
The appointments take immediate effect.
Signed
Yinka Oyebode
Chief Press Secretary to the Governor.
04-11-2020