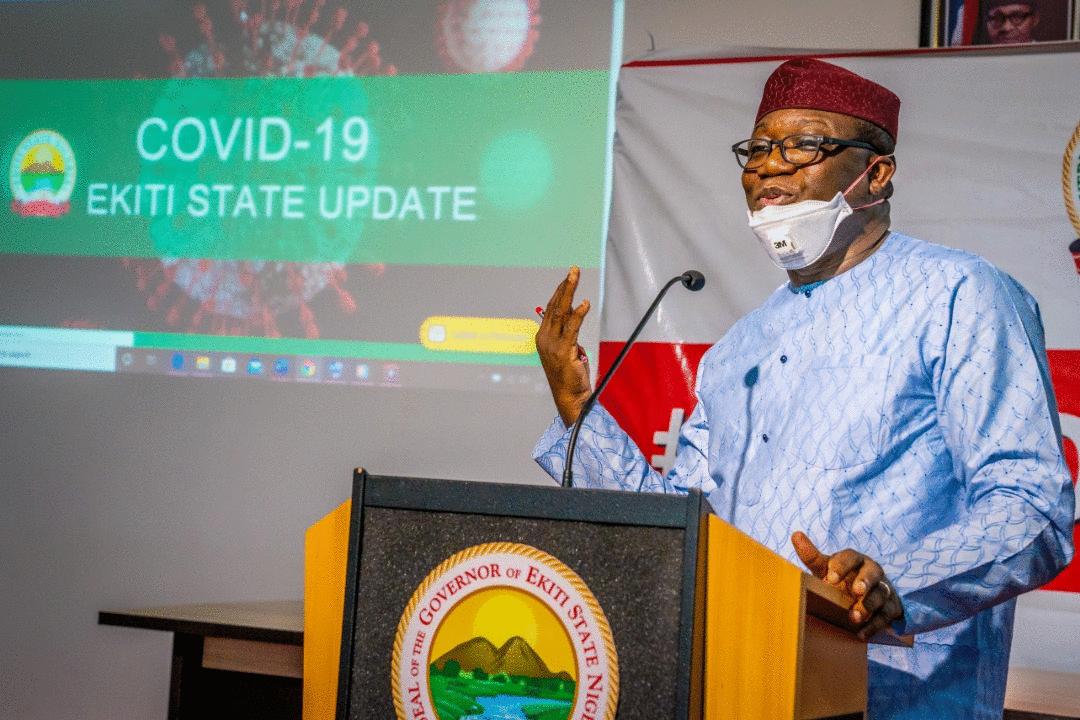 · …Says 2020 'll be year of life-changing projects
Ekiti State Governor, Dr. Kayode Fayemi on Wednesday disclosed that
his administration has defrayed #31,105, 658,370.89 amounting to 26%
of the total debt inherited by his administration from the immediate
past government of Mr. Ayodele Fayose.
Delivering a state of the State address at the State House of
Assembly, the governor said the sum was expended to defray salaries,
pension, gratuity, subvention arrears and contractual claims and
obligations owed by Fayose.
Fayemi however assured that despite the burden of inherited debts, the
year 2020 would witness a massive commissioning of projects and
institutionalizing of more life-changing programmes.
The governor who described the failure of the immediate past
government to meet its obligations to workers and pensioners as a
violation of fundamental human rights stated that his administration
is focusing on how to offset the remaining backlog of salaries,
pension, subvention arrears and contractual debts.
He added that his administration has equally tackled financial
challenges to complete key projects which would be commissioned this
week.
"You are aware that the past administration owed salary, pension,
gratuity, subvention and contractual claims. Since we came on board,
despite economic challenges, our administration has, to some extent,
fulfilled most of our promises. We have also offset part of the
arrears and debts owed by the past administration. We have so far
defrayed a total sum of Thirty-one billion, one hundred and five
million, six hundred and fifty-eight thousand, three hundred and
seventy Naira and eighty nine kobo in salary, pension, gratuity and
subvention arrears, and contractual claims and obligations, which
represent about 26% of the total inherited debt."
"We have been consistent with the payment of salaries and pensions of
our workers. It is a violation of fundamental human rights for people
to labour in vain. Our focus now is on how to gradually offset the
remaining backlog of salary, pension and subvention arrears and
contractual debts. Just like I assured the civil servants at the
maiden edition of the resuscitated interactive session with them, I
want to restate again that your arrears are not bad debts", he said.
While revealing plans for the second year of his administration, Dr.
Fayemi said his government would not rest on its oars as legacy
projects such as the AfDB supported Agro-cargo Airport, the Knowledge
Zone, Ado Ekiti Ring Road, Ado – Akure dualization, Agric Processing
Zone and World Bank supported projects would be actualized.
The Governor said he has kept his promise to restore dashed hopes by
bringing life back to moribund Ikun Diary Farm through a partnership
with Promasidor Milk Company "with plans to produce 9000 litres of
milk daily over the next two years".
Fayemi added that the state government is in partnership with NNPC on
a biofuel project as an alternative source of energy.
He said his government is not mindless of the people's yearnings and
expectations as government is planning to drive the State's economy by
transforming the power sector, water sector, road infrastructure since
the thriving of a developing economy is hinged on these three critical
sectors.
In his speech, the Speaker of the State Assembly, Hon Funminiyi Afuye
commended Fayemi for not only reversing "the drift of a hitherto
perilous and contemptuous administration" but also provided focused
and directional leadership for the people of the State.
Afuye said Fayemi has changed the narrative of governance from a
"devious administration to one that delivers on its promises".