The owner/CEO of Fabian Hotel in this exclusive interview spoke about the background of the establishment and how the hotel opened up a new history in Ado-Ekiti.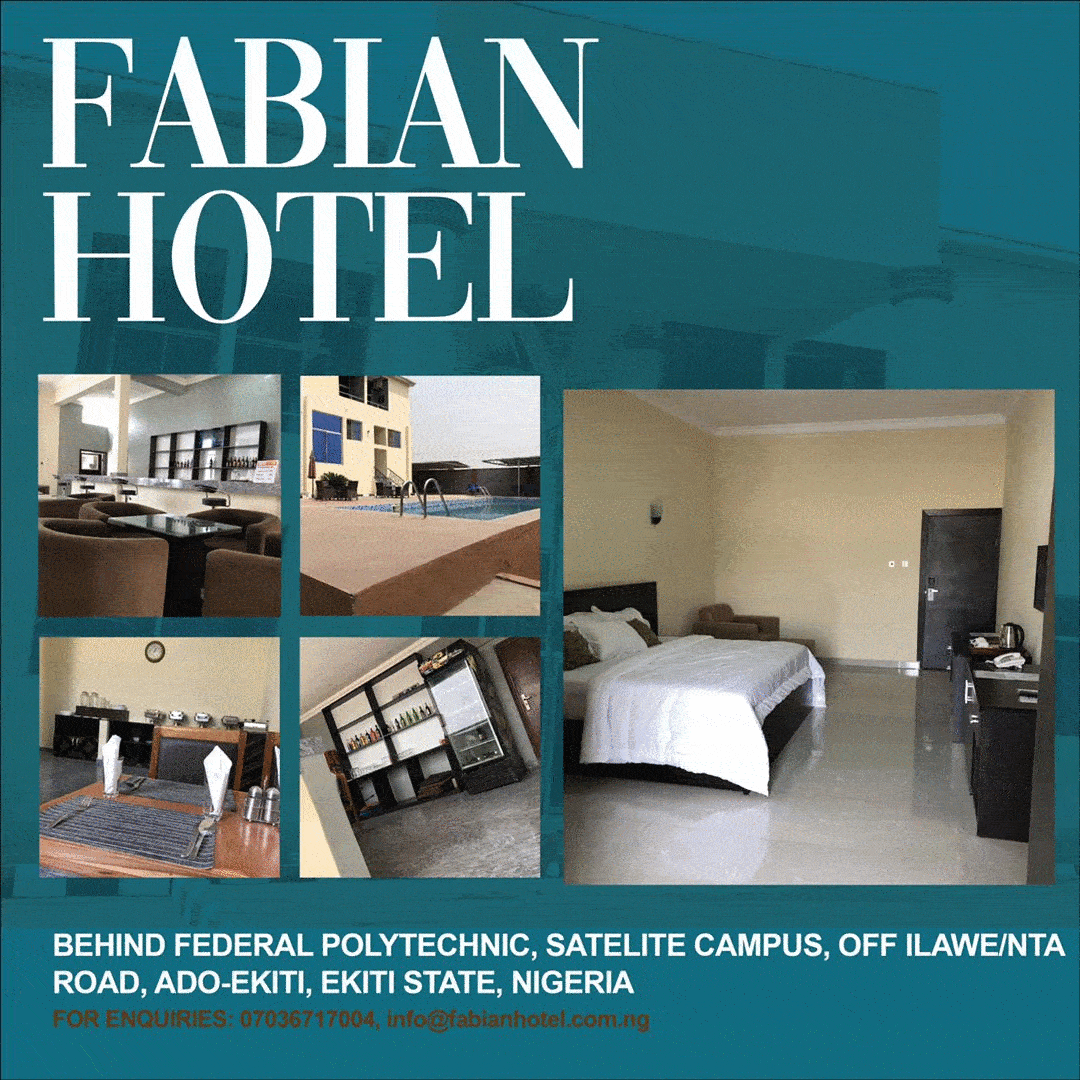 Mr Femi Ebenezer also took us down the memory lane, confirming how Governor Fayemi was the first Nigerian citizen to address the Chinese Chamber of Commerce in the year 2012.
He also shared with us never seen before photos of the hotel axis in the year 2001, as it was impressively the only structure in sight at that time.
Today, the axis has developed into one of the hot spots in Ado-Ekiti metropolis, and the CEO explained how he achieved the great stride of opening up a virgin area in Ekiti.
You're the Proprietor/CEO of Fabian Hotel, what is the history to this establishment sir?
Good evening, just boils down around investment and development of Ekiti state, I lived abroad most of my youthful life, I have been out of the country since 1988. I also do business there; I am from a family of business people.
My grandfather was a business person, my dad was a business person, so I grew up knowing how to do business, and after my graduation like I said, I traveled out of this country and I went to establish a small business in Europe.
Since 1989, I have been coming home regularly and I also visit Ekiti regularly. I love Ekiti state, it is my state, and I schooled here actually.
Since I am a business man abroad, living there and traveling all over the world, I discovered that since the creation of Ekiti state, there was no functional tangible hotel that could meet an international standard as at 1989.
So it just jumped into my mind that I should do something that would encourage investors and create an atmosphere where people would love to stay in Ekiti and enjoy a wonderful weekend. This was what brought about the hotel idea.
I could have actually built one in Ikorodu, Lagos state, but I preferred to have it back in my own town. The cost of buying properties in Ikorodu was also the same as buying it in Ekiti as at the time I started Fabian Hotel.
This month marks 20 years of Fabian Hotel, I came to establish this hotel February, 2001 and I also got it outside the center of the town so I could develop a new place and create a new history around the hotel.
That's the brief history of how Fabian Hotel came into existence.
That's quite a history of positives in Ekiti sir. Can you please share information on (Mr Femi Ebenezer) the entrepreneur? I particularly ask this question as I recall you were amongst the Ekiti indigenes chosen to accompany his Excellency, the Governor on an economic fact finding trip to China sometimes around year 2012.
That's a very good question. Like I said earlier, I have been on ground in Ekiti for like 10 years before 2012, I have been running business here. Apart from the hotel, I have another company in Ekiti, Centrum Engineering, and I brought in a German.
The intention then was to develop Ekiti as a hub of technology; I established the industry in the center of the town where we could repair, service and then manufacture small appliances. The company was established in the year 2008, but unfortunately, due to so many circumstances the project didn't materialize and the European had to return.
I as a person, I have always been interested in the development of Ekiti state and so when Governor Fayemi came into power in his first tenure, he was looking for somebody credible and tangibly understands Ekiti terrain to help co-chair the chamber of commerce.
So I took up the job to rebuild the Ekiti chamber of commerce and that was what gave birth to our trip to China. We informed all embassies around the world that Ekiti exists, and I wrote proposals across.
The Chinese government then took interest in Ekiti state and invited us. Governor Fayemi was the first Nigerian citizen to address the Chinese Chamber of Commerce in 2012. We went there and subsequently they came back to invite other Nigerians like the President and more.
It was a big plus for us and it was really a cap on our trip.
What's your advice to young entrepreneurs even outside the hospitality business cognizant your various businesses outside hospitality and the Ekiti factor
I think Ekiti is way far behind in terms of entrepreneurship, we are behind in almost all segments. And why is it? It is because of our traditional orientation that everybody must be on the educational path or science path, I mean we over depend on all that. Whereas, entrepreneurship creates employment, grows the society and encourages people to be self-reliant/self-sufficient.
My basic advice is that Ekiti people should look outside the normal statistical way of doing medicine and science. They should also look into areas of doing business. We could do better in this aspect, and young EKiti people should look more in this direction.
You're a pillar for positive force not only in your community, sir can your people expect your getting involved in Ekiti politics come 2022?
Peace, stability and progress in our state is all I am for. I am not a politician so I could hardly chip anything into politics, my orientation is business.