The Governor of Ekiti State and Chairman, Nigeria Governor's Forum, Dr Kayode Fayemi, tells ABIODUN NEJO that there was no basis for altercation between him and Tinubu, 2023 presidential election and other issues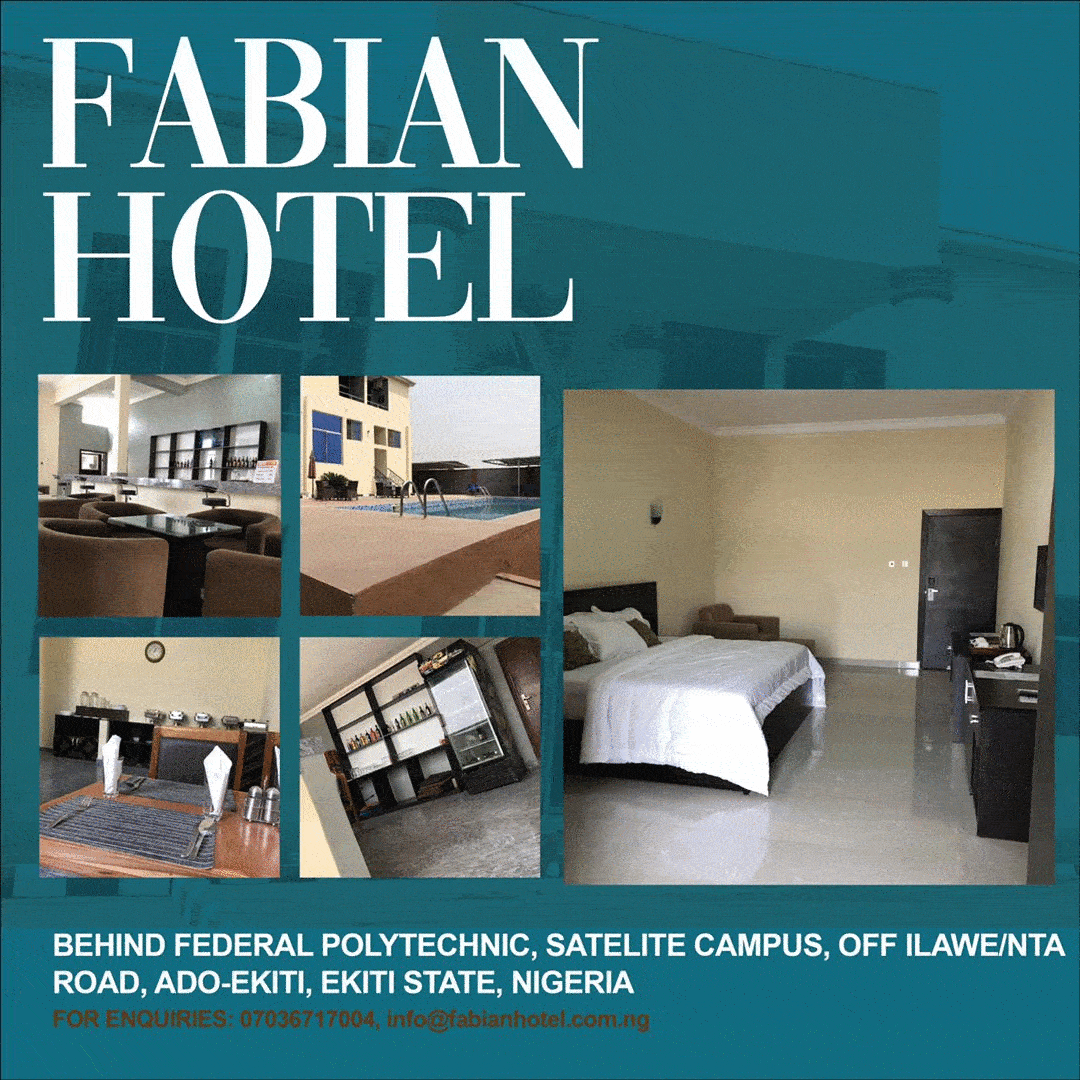 You will clock 56 in a few days. What are you most thankful for?
I will be 56 on Tuesday (February 9) and I am already feeling the impact of 56 years of running around in the world. But I thank God for giving me the grace, physical ability and agility to be able to cope with the responsibilities of office and the vicissitudes of life.
What is the toughest decision you have made as a governor?
I wouldn't say 'toughest', since most decisions in government are tough and you almost always have to juggle competing demands. For me, the most rewarding decision is doing things that would ultimately benefit the ordinary people, even if they appear insensitive and lacking in compassion in the first instance. One issue that I have been grappling with is the huge gratuity burden that the state is carrying. We took a decision to defray this by giving Promissory Notes to those concerned. By their nature, Promissory Notes are discounted if you want to exchange for immediate cash benefit. The institution responsible insisted on 15 percent discount and we met with the Union of Pensioners who were mostly receptive to the idea. In any case, the alternative is to wait endlessly for the N100millon we were disbursing monthly to settle gratuity pre-Covid 19. Given the choice, I woukd have wanted them to get full value of their gratuity but being realistic a N5million gratuity in 2014 is probably not worth more than N3million in 2020 in terms of its purchasing power, so the discounting makes sense if the money is not to lose its entire value. In the end, some doubt was planted in the minds of some pensioners and they embarked on a protest when the registration for the exercise started. And we decided to call the programme off. It was unfortunate because I know it's in their best interest and the most compassionate way to solve the problem. For me, governance is about making a difference in the lives of the ordinary people, particularly if you are from a state like Ekiti that is not so financially endowed. One just has to keep managing poverty creatively. That is the toughest decision and I'm still unhappy we are unable to help our pensioners with the plan.
The real issue for me therefore is: How does one implement well-meaning programmes creatively without generating crisis? Overall though, I think we have managed to do that in the state in the last two years and three months. We have managed to meet our obligations as a government to the people of the state. We have also branched out to other initiatives on our agenda that speak to our interest in making Ekiti investment-friendly, by creating an environment with ease of doing business. An alternative economy is also beginning to develop, even though on a much slower pace, particularly because of what COVID-19 occasioned in 2020.
What is your next move when your tenure expires?
My tenure as governor? I still have almost two years to go. My priority is to finish well. I just want to finish well here. Ekiti people have been kind to me and by the time I'm done, I would've been the first Governor in the history of the state to serve for two full terms.
Are there people you have been grooming as likely successors?
Everybody who has worked with me is a potential successor because they have come up on this journey learning the ropes, seeing the mistakes that I have made, learning the good things that I have done, and looking at how to build on those things if given the opportunity to govern the state. I cannot tell you that a particular person is being groomed because it is not a codified organised textbook grooming process. But clearly, I am sharing my experience and knowledge as we progress. I have an executive council where we debate issues. People see the way I conduct business and I am sure they would take the good and ignore the bad and the ugly from me.
What qualities do you expect your successor to have?
That would be character, competence, compassion and commitment to values. I came into politics on the strength of the core values I had imbibed over the years. Those are the same things that really helped me and shaped my journey over the last 15 years that I have been part of Ekiti politics. My prayer, desire and expectation is that the person who would take over from me would be somebody from my party. I would expect that the person would see value in the diligent prosecution of the agenda that we have worked on, particularly if there are areas of the agenda that we have not fully completed by the time I'm exiting from office, especially in the areas of infrastructural development, knowledge economy, and social investment for our weak and vulnerable citizens and good governance. One can only do that if one has character and one really feels a sense of compassion for the under-privileged and the people who need assistance. One would need to have a level of competence to deliver on those things that one promised to do and a commitment to serving the greater good of the greatest number of our people. Those are qualities that we expect, but I guess I would also expect somebody who can combine all of what I have said now, be ready to face the seriousness that the job demands, with the softer side. I am seen as a 24-hour workaholic even though that's not completely true. But that perception has grown because I am not on the roadside making a show of eating booli (roasted plantain) or agbado (roasted corn) and some of the things that people believe politicians should do, no matter how much work they are doing. They want to see them on the street, beside the person selling alcoholic beverages at Oja Oba Market and engaging with the boys in regular banter. It would be good to have somebody who, maybe, has a little bit of that, but not in excess. That would be someone who may not come across as so serious as I am. Somebody who is a bit softer but is also serious, to balance both sides of the expectations.
Don't you entertain the fear that your party might not be able to produce your successor, especially because people believe the All Progressives Congress has not performed well at the federal level?
There is no way those from the other side who are seeking the offices we occupy would not say such things in an attempt to rubbish what we are doing. They said the same thing before the 2019 elections. Politicians are used to that. The All Progressives Congress government at the centre has fared well. Look at the budgetary allocations to the Ministry of Works and see the results all around― the Niger Bridge, Abuja – Kaduna – Kano railway, Ibadan – Lagos railway and others. Although we have not done all that Nigeria expects us to do, but on balance, the APC government at the centre has done well in many areas and would win the next election. I have no doubt that our party is going to produce my successor here in Ekiti. At the state level here, as clearly evident, we have made Ekiti better than we met it two years ago. My party will run on that record. By the time we spend four years here, we would have more than enough to showcase to the Ekiti electorate, which would necessitate voting for the APC. Although performing well in office is not the only thing to sell us to the public, it's by far the most important quality.
How did you find yourself in politics?
Politics is life. I grew up in a home where I was very conscious of my environment very early in life. My late father worked in the Western Nigeria civil service as an information officer and every day, all the newspapers were in our house, so I grew up reading newspapers from a very young age. I was very conscious of my environment. In school, I was known as 'Current Affairs' because I was a leading student in quiz, current affairs and debates. I went to the university, still very conscious of my environment and was involved in students union activism. It was the anti-apartheid era and I was very active in the anti-apartheid struggle. I interned at the offices of ANC and SWAPO in Keffi, in Ikoyi when I was a student at the University of Lagos and I was the secretary of some students' bodies like the Youths in Solidarity with Southern African struggle in Nigeria. I was also involved in pan African activism abroad. I was involved in the June 12 election activism and the Nigerian pro-democracy struggle. So, I did not consciously come into partisan politics. I was an activist who was invited into partisan politics by elders who felt I had qualities that would be of use to my community and my state. That was how I found myself in politics. I was not even a member of any political party at the time I was invited, but my sympathies for progressive politics were clearly evident.
Was it Asiwaju Bola Tinubu or Otunba Niyi Adebayo that brought you into partisan politics?
‌
What does it matter who brought me into partisan politics? The point is that I am in partisan politics. I benefitted from the tutelage of both elders that you mentioned. I was involved with the first elder you mentioned, whom I knew from our time in exile and we worked together on the democracy project. I got to know the other when I returned to Nigeria and through contributing my own quota to the development of our state, Ekiti. I really don't want to get into a pointless debate because it is not helpful. I owe a great deal of gratitude to them. They have both been very supportive of my political development. They have assisted a great deal and I owe them for bringing me into the partisan political space. I have always been politically conscious. I was just not a party member in the sense of party politics in Nigeria. I had been involved and I helped Ekiti, Lagos and some other states with my experience in international development and my involvement with multilateral and bilateral institutions. I was able to bring this assistance to bear even before I came into partisan politics. But the important take away you should have is that all our leaders – Asiwaju Bola Tinubu, Otunba Niyi Adebayo, Aremo Olusegun Osoba and Chief Bisi Akande are very important people to me.
At what point did you decide to run for Ekiti State governor?
That journey really started in December, 2005. That was when I came to Ekiti State and started on the journey to become governor. I won the (party) primary in December 2006 and the election was in April 2007. Of course, it took me three and a half years from the time of the election to get into office in October 2010.
Did your wife and family members support your decision to go into politics at the onset?
Eventually they did, but not at first. They were very scared. My parents were reluctant, even though my father was a grassroots politician and he had been active in politics when he left the civil service in 1976. He was a councillor in my area in 1976. I think that was the first time we had councillors following the Dasuki Local Government reform. He also acted as chairman of Ekiti North local government under the military. My wife was more concerned. She is politically aware and very interested in her environment. She was very worried because if you recall, the politics of Ekiti in 2005 and 2006 was blood-cuddling, and for one's loved ones, it seemed like one had a death wish. But after much convincing by interested parties, my wife came around and she became a very active supporter. Even though she was living in Ghana at the time, she was regularly in Ekiti with me during the campaign.
What do you consider to be the highlights of your second term as governor?
My agenda when I came into office said it all. I wanted to reverse the trend that was very traumatic in the lives of Ekiti people and I felt I needed to narrow down my earlier eight-point agenda which was what drove my administration's work during my first term in office into five. However, I ensured the eight points were still captured within the five thematic pillars of my second term administration – agriculture and rural development; social investment; industrial and infrastructural development; knowledge economy; and governance. All are still geared towards making poverty history by entrenching wealth creation opportunities in our state.
What is your dream for Ekiti State?
I am determined to make a difference by making Ekiti a choice destination to live, work and play. . I said it in my inaugural speech for second term. It requires self denial in certain areas in order to ensure that one puts legacies in place for the greater good of our people. For me, what would make a significant difference is to really get into the consciousness of our people, particularly the younger ones, of the possibility of another Ekiti which is not civil service-dependent. An Ekiti that would be sustained on the strength of individual creativity, establish start-up companies, innovation hubs and private businesses, rather than this salary craze that we found ourselves stuck on. We are too afraid to get out of the salary trap, yet we cannot build a developmental state simply by running a civil service economy. It is not possible. We need to really break out of it and the two things that I think would give us an edge are agriculture and education. Those are the things we are putting a lot of attention on.
What are some of the innovative programmes you have implemented to improve the lives of the masses?
The theme of my campaign was all about restoring values and reclaiming the land. This we have worked on innovatively across all sectors of the economy. In the agricultural sector, we had a strategy in place which emphasised partnership with the private sector and partnership between those that we have encouraged to come in from the private sector and our own local farmers who automatically can fit into the overarching commercial agriculture framework of the private sector. This informed our partnership with a company like Promasidor to resuscitate the Ikun Dairy Farm; the rice mills coming up at Erifun; the agric belt in Oke Ako/Iyemero axis; the cassava mills coming up there or the recently inaugurated snail farm at Okemesi. That informed our approach, and we support our local farmers, particularly the young ones. About 2000 of them have benefitted from our support through the Micro-Credit and Enterprise Development Agency. About N1.5bn has gone into supporting Small and Medium Scale Enterprises in the state in the last two years. Ekiti is a state with limited resources but with unlimited resourcefulness. We have clear ideas about turning our state from a backwater state to a 21st century state and we are achieving this in a gradual but deliberate manner. We are paying attention to infrastructure development. For health and sanitation, we really need to get Ekiti back on track as far as water is concerned and we are almost there. Roads are important to our people and they are coming up gradually in the various senatorial districts and key arteries for entry and exit into the state, as well as our agricultural belt. The road to the tourism belt― Aramoko-Erijiyan-Ikogosi― is almost completed, just as we are working on the road to the clay factory in Ire, as well as the Ilupeju-Ire-Igbemo-Ijan Road. On electricity, we are signing the Independent Power Project agreement next (this) week. With that, at least people in the state capital would not suffer the pangs of blackout regularly. We also hope to complete the airport. Fundamentally, what is critical is to really create wealth by opening opportunities for people to put their own creativity and innovation to use. We have restored free education up to secondary school level. That has seen a major increase in school enrolment. Primary school enrolment has gone up by about 40,000 pupils and secondary school enrolment by about 25,000 in the state. We are making Ekiti an attractive destination to those who want to live, work and play in the most convenient environment for them. Also, healthcare takes priority. COVID-19 has presented itself as an opportunity for us to strengthen our health infrastructure and that is something we have gradually done and will continue to do. We are recruiting more workers, teachers, doctors, nurses, technologists and pharmacists in the state.